Workplace Wellness Ideas
Workplace Wellness Ideas: 
Shape up your workplace
A monthly series brought to you by
Get Healthy CT
Get Healthy CT aims to provide businesses with ideas that will facilitate healthy behaviors of their employees to improve employee satisfaction, productivity and showcase the employer as a role model for health. To support this, we will provide a "Workplace Wellness Idea" each month that employers can implement at low or no cost.
Wellness Idea #31: 
Encourage Gardening 
Grow Your Own Garden:  A green thumb and a lot of space are not necessary to benefit from planting your own garden. Even if you have very little space or experience, you can begin a garden with just a few houseplants or gardening containers. Growing fresh vegetables, herbs and fruit is an excellent way to improve your health and foster healthy eating practices. As an employer, you can encourage your employees to start their own garden by sharing these simple tips with them.
Benefits of Having Your Own Garden
Save Money-Save money each week by planting and growing fresh vegetables and fruit to use in your meals.  Even small garden plots can produce significant amounts of food that can be enjoyed by the entire family.
Improve Health- It is much easier to include fruits and vegetables into your diet when they are right in your backyard. Eating more fruits and veg
etables can help lower your risk for heart disease, high blood pressure, and cancer.
Increase Physical Activity-Working in a backyard garden is a great way to increase your daily physical activity and burn calories.
Share the Wealth- Gardens can tend to produce a lot in the summer months.  A number of vegetables tend to be high yield.  You can share the gift of fresh fruits and vegetables with neighbors, friends and coworkers.  Pick a day at work and encourage everyone to bring in a healthy treat using what they've grown. Start a fruit and vegetable co-op and trade your crops with others to add variety to your diet.
Read our entire Workplace Wellness Idea #31 for even more benefits and tips for having your own garden!
Try our NEW and improved pledges!
Click here to download and print our new pledge form for employers and organizations and take a pledge towards employee wellness today!
Completed forms can be emailed to moreinfo@gethealthyct.org. All organizations will receive resources and support from GHCT.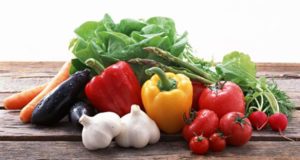 ---
Want all the previous Workplace Wellness Ideas? Download and print all  Workplace Wellness Ideas #1-35
Interested in improving the food and beverage environment at your company or organization? See the American Heart Association's Commitment to Building a Culture of Health commitment form for more details.