Workplace Wellness Ideas
Workplace Wellness Ideas: 
Shape up your workplace
A monthly series brought to you by
Get Healthy CT
Get Healthy CT aims to provide businesses with ideas that will facilitate healthy behaviors of their employees to improve employee satisfaction, productivity and showcase the employer as a role model for health. To support this, we will provide a "Workplace Wellness Idea" each month that employers can implement at low or no cost.
Wellness Idea #30: 
Choose Healthier Fast Food Options 
Make Healthier Food Choices: There may be days where it is impossible to find the time to sit down for a meal.  On those busy days, you may have no choice but to get in the drive-thru lane for a quick meal.  Consuming fast food regularly can have a negative impact on your health, so the key is moderation.  You should limit the amount of weekly fast food meals you eat and learn how to order the healthier items on the menu.  Get Healthy CT has put together some helpful information to help you learn how to make healthier fast food choices.
Tips for Selecting Healthier Fast Food Items
Control Your Portion Size: Many fast food meals are large enough to make several meals. Avoid supersized and value-sized items, and go for the smallest size available. You can order from the children's menu for reasonable portion sizes.
Select Grilled or Roasted Meats: Avoid fried and breaded items, such as crispy chicken and breaded fish fillets.  Also, try to avoid processed meats such as sausage, bacon, hot dogs, or ham. Better options when available, are turkey or grilled chicken breast.
Read Descriptions Carefully: Dishes which are labeled as deep-fried, pan-fried, basted, batter-dipped, breaded, creamy, crispy, scalloped, or au gratin are usually high in calories, have unhealthy fats, and are loaded with sodium.
Choose Healthier Salads:  Be careful when ordering salads, as many fast food salads are loaded with high calorie and high fat toppings. Go without the bacon, extra cheese and ask for salad dressing on the side.  Oil and vinegar is a good option.
Read our entire Workplace Wellness Idea #30 for even more tips for choosing healthier options at fast food restaurants. 
Try our NEW and improved pledges!
Click here to download and print our new pledge form for employers and organizations and take a pledge towards employee wellness today!
Completed forms can be emailed to moreinfo@gethealthyct.org. All organizations will receive resources and support from GHCT.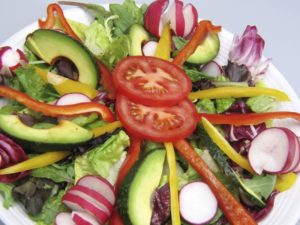 ---
Want all the previous Workplace Wellness Ideas? Download and print all  Workplace Wellness Ideas #1-35
Interested in improving the food and beverage environment at your company or organization? See the American Heart Association's Commitment to Building a Culture of Health commitment form for more details.