Workplace Wellness Ideas
Workplace Wellness Ideas: 
Shape up your workplace
A monthly series brought to you by
Get Healthy CT
Get Healthy CT aims to provide businesses with ideas that will facilitate healthy behaviors of their employees to improve employee satisfaction, productivity and showcase the employer as a role model for health. To support this, we will provide a "Workplace Wellness Idea" each month that employers can implement at low or no cost.
Wellness Idea #34: Incorporating Fruits and Veggies into the Workplace   
Why Incorporate Fruits and Veggies?
An easy way for businesses to start creating a healthier workplace is by creating more food options including fruits and veggies at the workplace. Having more fruits and veggies available in the workplace   allows employees the ability and access to eat healthier while at work.  This is important due to the immense amount of time most individuals spend at their workplace on a daily basis.
Reasons Why You Should Eat MORE Fruits and Veggies
They are nutritious and delicious
They can be fun to eat
Fruit and veggies are a quick and natural snack
There is a wide variety of options and always something new to try
They are a good source of vitamins and minerals
Eating them may reduce disease risk
They are naturally low in calories
They can help increase your fiber intake
Convenience-They can be found fresh, frozen, canned, dried and in 100% juice form
They provide color and texture to meals and help bring more appeal to your plate
Read our entire Workplace Wellness Idea #34 for ideas on how to incorporate more fruits and veggies into the workplace. 
Try our NEW and improved pledges!
Click here to download and print our new pledge form for employers and organizations and take a pledge towards employee wellness today!
Completed forms can be emailed to moreinfo@gethealthyct.org. All organizations will receive resources and support from GHCT.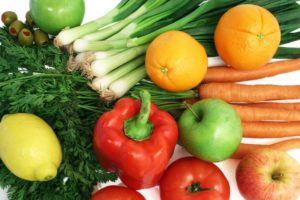 ---
Want all the previous Workplace Wellness Ideas? Download and print all  Workplace Wellness Ideas #1-33
Interested in improving the food and beverage environment at your company or organization? See the American Heart Association's Commitment to Building a Culture of Health commitment form for more details.