Monthly Member Spotlight
Ever wonder what partners help to make up Get Healthy CT?  Starting in April 2018 we will feature a new GHCT member each month to help you learn more about WHO is behind all this great work! 
---
September 2018 Member Spotlight
Santina Jaronko is the Health Educator for the Fairfield Health Department.  We asked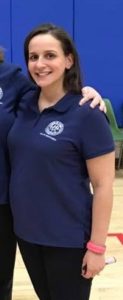 Santina a few questions and here is how she responded.
Town(s)/region served: Fairfield
Please briefly describe your role within your organization.  As the Health Educator for the Town of Fairfield Health Department, I have the opportunity to offer a variety of programs on different health topics to our community members. Additionally, my role provides me with the opportunity to work with a variety of partners, like GHCT.
How are you involved in GHCT and for how long have you served in this role? I have been involved with GHCT since 2014. I currently serve as the co-chair for the Healthy Lifestyles Task Force, a role I have had since 2016.
What advice would you give community about using GHCT as a resource to improve their health? GHCT has a variety of great resources for community members in the Greater Bridgeport region and beyond. I often refer community members to the GHCT website for great tips and information on upcoming events and especially for the monthly features.
What is your favorite healthy habit? My favorite healthy habit is meal prepping, something I do every Sunday. Preparing my foods ahead of time, gives me the opportunity to have all of my healthy foods ready to go for my busy week.
Click here to learn more about the Fairfield Health Department.