Monthly Member Spotlight
Ever wonder what partners help to make up Get Healthy CT?  Starting in April 2018 we will feature a new GHCT member each month to help you learn more about WHO is behind all this great work! 
---
July 2018 Member Spotlight
Ellen Liskov is an Outpatient Nutrition Specialist and Certified Diabetes Educator for Yale New Haven Hospital.  We asked Ellen a few questions and here is how she responded.
Town(s)/region served: Greater New Haven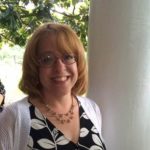 Please briefly describe your role within your organization: As a registered dietitian who works in the outpatient setting, I counsel individuals and groups on healthy eating strategies to achieve their health goals.  The top reason why people seek out a registered dietitian-nutritionist include weight management, diabetes, high blood pressure, high blood cholesterol, irritable bowel syndrome and other digestive disorders and healthy eating for wellness.  We also see clients who are poorly nourished due to medical or environmental reasons and work to improve their nutritional status and link them to appropriate resources in the community. 
In addition, I run employee wellness programs including group weight management programs, health fairs, lunch and learns and health challenges.  A new venture in use is our new teaching kitchen which is in partnership with Morrison, our food service company.
As a certified diabetes educator, I see clients to help them master the challenges of controlling diabetes.  Many topics are taught including healthy eating, being active, medications and monitoring diabetes, avoiding complications and how to care for yourself appropriately including coping with this chronic condition.
How are you involved in GHCT and for how long have you served in this role?  I've been involved for at least three years!  I believe that I have represented registered dietitians and their role as health care providers both for individual clients and for the population.  Important key contacts and relationships have been formed.  For instance, dietitians have participated in lunch and learns for various organizations, volunteered at health fairs that other partners were holding and several have volunteered to be leaders at the Walk and Talk groups.  It's a great partnership!
What advice would you give community about using GHCT as a resource to improve their health?   Use the resources available on the GHCT website, which use science-based information!  Come out and meet others at the Get Healthy Walk 'n Talks!
What is your favorite healthy habit?  Taking unhealthy recipes and giving them a makeover so that they are now quite healthy but also delicious!
Click here to learn more about Yale New Haven Hospital.