Member Spotlight
Ever wonder what partners help to make up Get Healthy CT?  In 2018, we began to periodically feature a quick interview with GHCT members to help you learn more about WHO is behind all this great work! 
---
Current Member Spotlight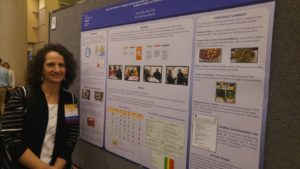 Gina Smith is the Community Health Improvement Coordinator for Yale New Haven Health and works in the Greater New Haven and Greater Bridgeport Regions.  We asked Gina a few questions and here is how she responded.
Please briefly describe your role within your organization As Community Health Improvement Coordinator, I am actively involved in the Community Health Needs Assessment (CHNA) process conducted across Yale New Haven Health System every three years.  Out of the CHNA data, community health improvement teams create plans to address the health needs of their communities.  I work with several of these teams in multiple regions to help provide coordination and facilitation of programs and initiatives to improve health.  These teams are made up of partners from many different organizations spanning many different regions.
One specific example of an initiative that I help coordinate would be Know Your Numbers, a free community health screenings program that provides health screenings in food pantries in both the Greater Bridgeport and Greater New Haven regions.
In addition, I provide day-to-day leadership and coordination for Get Healthy CT across Yale New Haven Health System and represent GHCT and YNHHS on multiple regional and statewide coalitions.
How are you involved in GHCT and for how long have you served in this role?  Since January 2016, I have managed the GHCT website, outreach and materials production.
What advice would you give community about using GHCT as a resource to improve their health?   The GHCT website has a ton of useful information for anyone looking for simple, easy-to-follow health and wellness tips.  Not only do we update our main resources every single month, but we also have FREE educational materials available to organizations.  Just email us at, moreinfo@gethealthyct.org and let us know what you are looking for!
What is your favorite healthy habit? I wear an activity tracker (Fitbit) daily and try my best to get my 10,000 steps in each day.  It is also fun to challenge friends and family to steps challenges.  I am very competitive, so this always makes me get up and move more! I also enjoy searching for and making new healthy recipes. If you didn't already know, we have a lot of delicious healthy recipes on the GHCT website under the "Healthy Food" tab.