Member Spotlight
Ever wonder what partners help to make up Get Healthy CT? In 2018, we began to periodically feature a quick interview with GHCT members to help you learn more about WHO is behind all this great work!
---
Member Spotlight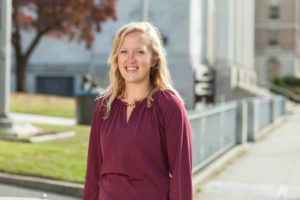 Chelsea Kordiak, Executive Director, Stratford Y, part of the Central Connecticut Coast YMCA.
What towns/region do you serve? The Central Connecticut Coast YMCA is a charitable, not-for-profit, community service organization dedicated to putting Judeo-Christian principles into practice through programs that build healthy spirit, mind, and body for all. The Y strengthens the foundations of communities and families through youth development, healthy living, and social responsibility in twenty-four towns and cities in the Greater Bridgeport and New Haven areas. Additionally, programs and services are offered through YMCA Camp Hi-Rock located in Mount Washington, MA.
Please briefly describe your role within your organization. I serve as the Executive Director at the Stratford branch, which means my job is to help connect people to the Y, as members, participants, staff, volunteers, and community collaborators. I love seeing families get stronger together, friendships form over mutual support, and individuals succeed by creating new, healthy habits.
How are you involved in GHCT and for how long have you served in this role? I am the co-chair for the Greater Bridgeport Healthy Lifestyles Taskforce and have been with GHCT for about a year. It's such a great way to connect with other people and organizations in the community who are focused on health and wellbeing.
What advice would you give community about using GHCT as a resource to improve their health? Small changes add up, especially when it comes to improving your family's health. GHCT shares great information on how to make those changes and does a lot to advance the community's health as a whole.
What is your favorite healthy habit? Meal-prepping for breakfast has changed my life, which sounds dramatic, but it's true! Each week, I make a batch of baked oatmeal with fruit or an egg casserole with lots of veggies. Starting out the day with something nutritious, that I don't have to think about, allows me to squeeze in a run or a yoga video on You Tube, which helps me start the day focused.